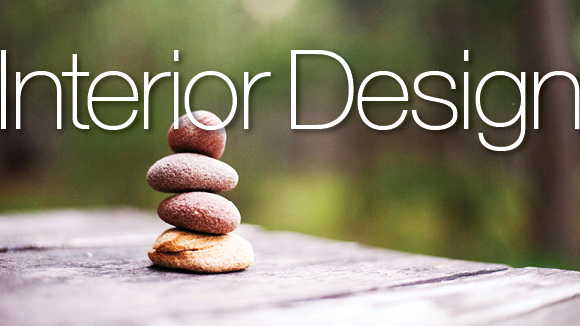 Decorating for the season begins with a plan that pulls together color, style, and spaces.
Determine your strategy by deciding to decorate by theme, zones or décor style. The next step is to create a space that reflects your design personality type.
Carry the Theme Throughout your home.
Having a unified design helps the look to flow from room to room or tree to table. You might choose a special ornament or sentimental item to build from. Gather up items that are special to you. Decorating themes can come from many different sources. Think about the colors, shapes, symbols, patterns, even a style or mood can shape your theme. Create a consistent color scheme throughout your home. Focus on the colors you have in your home year 'round and select complementary colors that bring out the seasonal feeling. Focusing on shapes or symbols creates a theme enhanced by a central motif. Include a few larger pieces to make a big visual impact without looking cluttered. Harmonize your interior for an easy transition from room to room.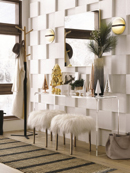 Consider which zones will have the greatest impact.
Start with the most visible areas of your home to accentuate your theme. Depending on your house, perfect zones to decorate might be:
The front door
An entry hallway
The kitchen
Fireplace mantle
Office
Buffet table
Decorate for The Holidays by Emphasizing Your Décor Style
What is your holiday decorating personality type? Are you a Minimalists where less is more or just the opposite Over the Top – Maximalists?
Minimalists
– Simple style decorating with a few impactful colors and objects.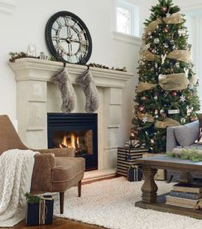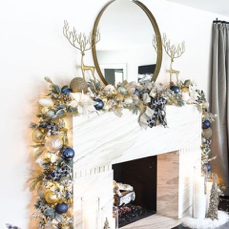 Start with a white background to appreciate every detail. Bring it to the table by using linen tablecloths and napkins. Set your space aglow! Choose candles and tapers in soft whites, creams, and warm metallics to create a neutral, cohesive look. People do lots of seasonal cooking and white dishes showcase the food you're serving. Mixing all periods, shapes and materials of white—earthenware or porcelain. Instead of festooning the space with many decorations, select a few ornaments to display in a large bowl on the table, thus paring down the sprawling detritus of holidays past to one simple, meaningful centerpiece. Minimalist decor doesn't mean sacrificing on cozy! Layer lots of chunky knits, sheepskins and warm, textural decor to bring the snuggle factor.
Maximalist
– Eccentric style, mixing colors & pattern with old and new decorations. Play up pattern when it comes to your table setting — don't be afraid to mix and match with seriously colorful china. Is the philosophy "more is more" kinda your thing? Have your tree be as over-the-top as you can dream up! Punch up your mirrors and walls with wreaths in bold colors, shimmering metallics, and interesting textures.
Nostalgic
– Traditionalists in color and a classic style. Big on tradition but small on space? Just add a mini tree potted in an antique brass cachepot! Spruce up your libations station with fresh cut greenery, plenty of winter citrus, and classic linen cocktail napkins. Let your antique ornament collection be the star of the show! Make sure to put the bubbly on ice. Fill antique champagne buckets with everything from booze to festive branches to ornaments! Take your sips outdoors with vintage enamelware mugs & wrap yourself in plaid blankets.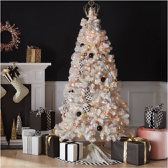 Modernist
– Clean and crisp style. Warm up sleek serving pieces with plenty of soft linens, richly hued fruits, and ceramics. Keep your overall hues moody but add a pop of lightness to the space with a sweet, Scandinavian-inspired star pendant. This is the time to let your sleek stemware be the star of the party. Gather gorgeous vessels in varying shapes and heights on your mantel, and fill with single branches for a dramatic effect. Turn your tree into a modernist work of art by keeping the overall palette to a few colors and choosing sculptural ornaments that can shine on their own
Modern Glamour
– Art Deco in style, with plenty of brass & gold accents. Impress your guests and make your home truly shine bright by bringing out your finest and fanciest serving pieces in shades of metallic. Embrace your wild side with animal print accents, layered in rich, sumptuous velvet and silk pillows throughout your living space. Then sip in style with sleek crystal stemware and lucite ice buckets.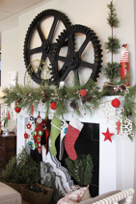 Rustic/Industrial –
This style emphasizes the use of unique materials. Compose a cozy atmosphere with a cabin theme of flannel, distressed wood, pine boughs, and burlap. Embrace your green thumb! Understated greenery brings a clean, organic elegance to your space. Construct a Christmas tree of copper piping or pennies. Build tree decorations using gears/hex nuts of different shapes for ornaments. Form wreaths by hanging mason jar lids and attach ornaments inside. Fabricate wall versions of rusty hardware & springs turned into snowflakes, the rustier the better.